Physiotherapy
Physiotherapy is a health care profession which has a focus on treating and improving pain and movement related problems. These problems can be the result of an injury or accident or they could be present from birth. Often the mechanism of onset can be subtle or problems can develop without an obvious incident. Physiotherapists also treat people who have experienced problems of the neurological system, respiratory system, or who have other health issues affecting movement.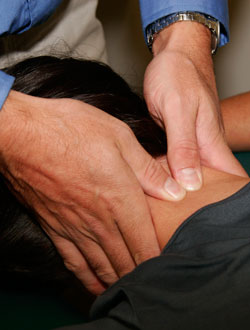 Some examples of conditions which can be helped by physiotherapy are:
Back and neck pain
Sporting injuries (sprains, strains)
Peripheral joint and muscle problems
Arthritis
Recovery from trauma (broken bones, dislocations)
Recovery from surgery (including for conditions such as breast cancer)
Rehabilitation after a stroke or head injury
Asthma and other respiratory conditions.
Physiotherapy care can also help people who participate in sport, performing arts and other recreational activities to improve their movement and overall performance.
We work with people of all ages, from babies to the elderly, from elite athletes to occasional participants.